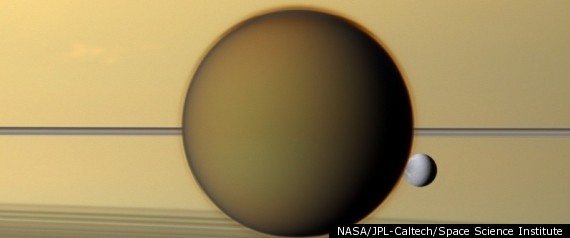 NASA's Cassini Spacecraft circling Saturn has discovered a wispy oxygen atmosphere on the ringed planet's icy moon Dione, but you wouldn't want to live there. For one thing, you wouldn't be able to breathe, Dione's atmosphere is 5 trillion times less dense than the air at Earth's surface, scientists say.
The ultra-thin layer of oxygen ions so sparse that it is equivalent to conditions 300 miles (480 kilometers) above Earth's surface. On Dione, there is just one oxygen ion one for every 0.67 cubic inches (or one ion for every 11 cubic centimeters) of space, but it's still enough to qualify as an atmosphere Cassini mission scientists announced Friday (March 2).
Dione is one of Saturn's smaller moons at about 698 miles (1,123 km) wide. It orbits Saturn once every 2.7 days at a distance of about 234,000 miles (377,400 km) — roughly the same as that between Earth and its moon, according to a NASA description.
The oxygen on Dione may be created by solar photons or high-energy particles that bombard the moon's ice-covered surface, kicking up oxygen ions in the process. Another idea suggests that geologic processes on Dione could feed the moon's atmosphere.
Dione is by no means the only rocky body with an atmosphere in our solar system. Thick atmospheres cover the planets of Earth (obviously), Venus and Mars, as well as Saturn's largest moon Titan.
Dione was discovered in 1684 by astronomer Giovanni Cassini, after whom the Cassini spacecraft is named. The moon is named after the Greek goddess Dione, who the ancient Greek poet Homer described as the mother of the goddess Aphrodite.